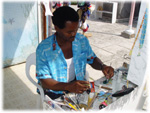 It would be a shame to visit The Bahamas and not get to know the people. The friendly Bahamians welcome tourists, often sharing stories of their lives and explaining the history of their home.
Enjoy the island's junkanoo bands, or Mama Flo's famous Wednesday-night fish fry. Leave all your cares at the door and relax in a world where stress and deadlines are not in the vocabulary.
Bahamians are also devoted to their tradition and religion, and many will welcome you in to learn more about them or perhaps buy a souvenir they have crafted.
[ttfmp_widget_area page_id="132″ section_id="1411410148613″ column_id="2″]